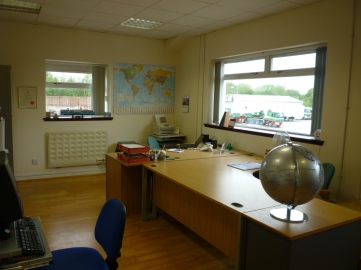 Derek Campbell Shipping Blantyre Office
Derek Campbell Shipping has it's roots in heavy industry.
The Company was formed in 1997 to provide services for transporting machinery within the U.K. and shipping worldwide.
We specialise in the movement of all types of equipment, from packaged parts to heavy or abnormal sized machinery and projects. We take care of what's needed to get the job delivered - whether a small package urgently required or a more complex sized piece to any overseas destination, we can help.
For transport within the U.K. we will make sure that the proper equipment is used and that all the necessary permits and notices are in place.
On overseas jobs we can take care of all that is required including help on commercial documentation, HM Customs and destination country requirements..
Being privately owned and independant we have extreme flexibility with our services. We pride ourselves on being available when our customers need us. We can be contacted 7 days a week by telephone or email.

Our quotations and advice are free

We are located within the premises of Cadzow Heavy Haulage in Blantyre, Scotland.
A 24 hour secure site with storage,crane facililities and an extensive range of haulage tractors and trailers, established over 40 years.
"Derek Campbell Shipping provide an excellent logistics service, competent and experienced when import and
export documentation is involved and when arrangements have to be precise"
- Adam Orr, Equipment Sales Manager U.K. & Ireland for Metso UK