PROJECT HIGHLANDER, GLENSANDA QUARRY, SCOTLAND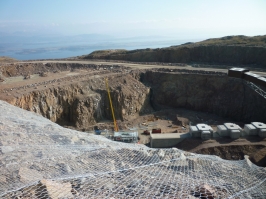 Project Highlander under construction 2015
Glensanda Quarry is the largest granite quarry in Europe, located on the banks of Loch Linnhe on the
Morvern Peninsular, West Coast Scotland.
The quarry produces high quality crushed granite, at a capacity in excess of 9 million tonnes annually.
'Project Highlander' is a development to extend production in the quarry for years to come.
From July 2013 we were tasked by the major site contractor, Whitwick Engineering of Coalville to bring all the supplies of structural steelwork and machinery from throughout the U.K. to their engineers working in the quarry.
Glensanda Quarry is not accessible by road, instead the Quarry is serviced by sea barge across Loch Linnhe The frequency of sailings determined by demand and unfortunately at times, the weather conditions !
Our scope of service was to liase with the many suppliers throughout the U.K., collect and deliver to order as and when required by Whitwick Engineering.
The supplies comprising of an assortment of regular and often irregular fabrications were shipped up on trailer equipment. Co-ordinating arrivals to meet barge schedules.
Subject to space availability the trailers were then taken across the loch to the quarry to be offloaded before returning empty on an available return crossing. Subject to offloading within the quarry and available barge space, often trailers could be tied up several days on site.
Transporting of equipment to the quarry from March 2013 through to April 2015 required in excess of 125
artic trailer loads, each and every one managed from supplier to site. The scope and nature of supply meaning that every load was carefully managed and monitored so that suppliers, barge operators and engineers at site were kept well advised. Often out of regular hours and up against sometime patchy service levels of telephone communications in the quarry.
We are pleased to be a part of the success of Project Highlander which will secure the future and ongoing success of Glensanda Quarry for decades to come.
".....Thanks for your continued cooperation in achieving what could have been a logistical nightmare, with continued flexibility against the many difficult challenges we gave you. Thank you for being part of the integral support for Project Highlander delivered at Glensanda Quarry"
Nick Peatling,
Contracts Director
Whitwick Engineering (Coalville) Ltd.